Free Online Access in Response to COVID-19
The staff of Easy English Times understands that many schools and libraries are closed due to COVID-19. Our print version of the April paper was mailed as usual (unless you requested we hold your copies for later shipment).
To serve all readers now sheltering in place, here is FREE online access to our April edition. The Learning Activities, Answer Key and Pre-Crossword Exercise are available, as always, online.

A newspaper in easy English!
Are you learning English as a second language (ESL)?
Are you teaching ESL, adult literacy or citizenship? Are you a tutor?
Would you like a free sample copy (USA only)?
Email us at easyenglish@aol.com with your USA mailing address and we will send you a hard copy newspaper as a sample.
Short term subscriptions are available. Resources for teachers and tutors are included.
In our April issue...
The COVID-19 pandemic is our page 1 story. We are all in this together. When did it start? When will it end? Advice and information from the Centers for Disease Control and Prevention (CDC) are included. Resources are provided. What does it mean to "flatten the curve"? What is "social distancing"? There is an instant activity about coronavirus headlines. A student from Bakersfield writes a poem to encourage us. The April 15 Internal Revenue Service deadline has been extended to July 15. Many presidential primary elections have been postponed. The conversation activity is on "being home" as we shelter in place. Susan Gaer gives students ideas on learning activities for distance education. In other news, April 22 is the 50th anniversary of Earth Day. The photograph for "People at Work" shows a man installing solar panels on a home. National Library Week is April 19-25. Easter is April 12. For family literacy there is a story to tell children about The Velveteen Rabbit. Our readers write about happiness, a favorite place, a favorite book and famous leaders of China. The Boston Marathon and 2020 Tokyo Olympics have been postponed. Alani Flores Carrillo writes about running a 5K race. There is a movie review on "Harriet" about Harriet Tubman. What is Patriots' Day? Citizenship is related to the American Revolutionary War and the Civil War. There are many instant activities in this issue including reading, writing, conversations and idioms. All this and more in the April issue.
Student writing of the month is from Mountain View, Calif. Bonus student writing is from Bakersfield and Calistoga, Calif.
* * *
It is our hope that you will start by reading this newspaper then "graduate" on to reading community newspapers.
* * *
TEACHERS AND TUTORS - Don't forget - A pre-crossword puzzle worksheet is available to give your students additional practice! Answer keys are posted for Learning Activities and can be printed out!
Easy English Times in the news
In a hyperpartisan era, a Napa newspaper brings unbiased news to readers learning English
Our 20th anniversary was in 2016!
Students from Allison Lewis' ESL class at the Pui Take Center in Chicago.
We love to print student writing! Every month we receive more student writing than we have room to print so we are featuring a few more stories here under "Bonus Student Writing." Also see "Student Writing of the Month."
It's easy to start teaching or tutoring from the paper. Do you want tips on using any newspaper in? Click here. A Teachers' Corner is included. Easy English Times has instant activities for reading, writing and conversation. This newspaper is published to present relevant information and current events in an easy to read format for English language learners and adult literacy programs. Easy English Times can be used in multi-level ESL or adult literacy classes. Tutors can use the paper. It also works for self-study. Do you need easy content for beginning readers? See page 3 of each issue for "Easy, Easy English."
* * *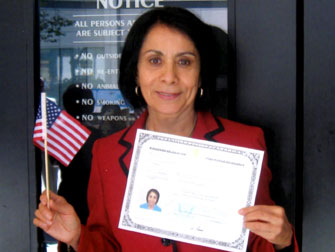 Citizenship - Easy English Times has a focus on citizenship! Citizenship information is included in each issue.
Our readers write from Bakersfield, California

Students from Bonnie Vaughn's class at Bakersfield Adult School in California.
A newspaper in easy English!
Easy English Times brings a world of information to high school and adult learners. It's a newspaper written in easy English for those in English as a second language (ESL) classes and adult literacy programs. It is used in library and workplace literacy projects, jail and prison literacy programs. Published 10 times a year, Easy English Times is used in ESL classes in high schools, adult schools, colleges, and other sites. It is used in family literacy projects and faith based programs. It is used by English as a second language (ESL) teachers and literacy tutors. It is used in citizenship classes and EL Civics programs. It is also used in EFL classes.
Classroom and individual subscriptions are available. Discounts are given for class sets. We accept school purchase orders and credit card payments. You can order this English as a second language (ESL) and adult literacy newspaper by mail, by the issue or by the year (10 issues). Contact us for international mail rates. We have added an online edition, especially for the convenience of international readers.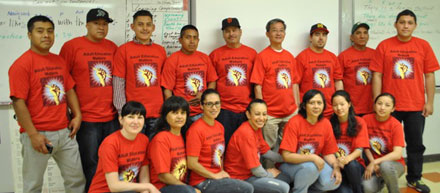 In a past issue... Why should you "Wear Red for Adult Ed"? Learn why and see the story and photographs of California ESL students and a teacher wearing red. (Click HERE for a special copy of the complete story and additional photographs.) Pictured here above, students from San Mateo Adult School in California. "Adult Education Matters" is the message on the red shirts.
* * *
Do you want to improve your English?
Subscribe today to Easy English Times.
Desea usted mejorar su ingles?
Subscriba hoy a Easy English Times.
You can receive this newspaper at your home. The cost for an individual subscription is $40/year for 10 issues. You will receive a newspaper almost every month. (There is one newspaper for August and September. There is one newspaper for November and December.)
Usted puede recibir este periódico en su casa. El costo por una suscripción individual es $40/ano. Recibir un periódico casi todos los meses. (Hay un periódico por agosto y septiembre. Hay un periódico por noviembre y diciembre.)