2015 Student Writing of the Month
2014 Student Writing of the Month
2013 Student Writing of the Month
2012 Student Writing of the Month
2011 Student Writing of the Month
2010 Student Writing of the Month

| January | February | March | April | May | June | July | August/September | October |
| November/December |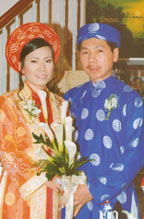 From June 2010 issue
(Editor's note: Quyntram Nguyen is a student at the Greenspoint Center of Lone Star College in Houston, Texas. Her teacher is Jacklyn Ross.)
My wishes
by Quyntram Nguyen
If I had three more wishes they would include a new car, no more orphans in the world, and a trip to India. The reason I ask for three new wishes is because my first wish came true. I wished for a new life in the United States. I'm currently a student at Lone Star College improving my English. My teacher is Jacklyn Ross. I think she is a wonderful teacher. I know wishes can come true if you believe.
When we first came to the United States we bought an old car for my husband to drive because we didn't have enough money for a new one. It is the only one we have and he wants me to have one too, but we will have to wait. The first thing I must do is learn how to drive. I wish I had a lot of money to make this wish come true for us.
We love children very much, but the world has an incalculable number of orphans whose parents have abandoned them. Some are abandoned at birth due to diseases or their parents are dead and they don't know who their parents are. These children never get a chance to love or feel attachment. For my third wish, if there were no orphans in the world life would be very beautiful and happy.
Finally, for my fourth wish, I wish I could take a trip to India where there are pagodas and temples. Buddha lived and died in India. It would be an honor for me to visit this place. I want to go there and pray for a better life for me and the people of the world.