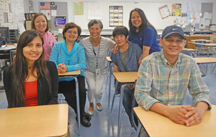 Our readers write from Vallejo, California
(Editor's note: Vallejo Adult School ESL teacher Yvonne Martin asked her students questions about their impressions of Easy English Times and their English class. We received writing from the following students: Juan Alberto, Wisam Alzokari, Hanna Anobryushova, Carolina Arroyo, Yang Boone, Jose Chavez, Eduardo Gonzalez Curiel, Alfredo Diaz, Juan Dominguez, Jennifer Gonzalez, Gustavo, Rudra B. Khati, Sunita Khati, Javier Marquez, Miguel Angel Villasenor Mendez, Elida Navarro, Nefertiti, Santiago Patino, Luzia Presotto, and Seseg Prushenova.)
Questions:
1. Why do you like Easy English Times?
I like Easy English Times because this newspaper helps me learn English and to build my vocabulary. The short stories are good for memorizing and complete understanding. I have loved Easy English Times since the first time I saw it. --Seseg Prushenova, Russia
The information is real and I can learn more words in English. There are different stories; they are interesting and some are very funny. --Carolina Arroyo, Mexico
I like learning different new words and I also like the citizenship questions. -- Santiago Patino, Mexico
2. What is your favorite story in a previous issue of Easy English Times?
I liked "Chicken Little". It was fun to read. --Yang Boone, South Korea
My favorite story was "Nellie Bly: Pioneer woman journalist." I like to read about strong people who make history. I especially like to read about famous women. -- Seseg Prushenova, Russia
My favorite story was about Malala because that story is really incredible and at the same time, it is sad. --Jennifer Gonzalez, Guatemala
My favorite story was about how Sergio Garcia's American dream came true. -- Juan Dominguez G., Mexico
I also liked Sergio Garcia's story and "Talk to you baby!" --Elida Navarro, Guatemala
3. Why is it important to read a newspaper?
It is important to read a newspaper because we can learn about people's opinions and different cultures. --Sunita Khati, Nepal
It gives me news and improves my reading skills. --Alfredo Diaz, Mexico
We need to be aware of what is happening in our community and around the world. --Santiago Patino, Mexico
* * *
While most of our readers are in high school, adult schools, community colleges and library literacy projects, we received this note from a middle school teacher:
"These continue to be a fabulous teaching tool and extremely valuable resource for my middle school ELL's. I'm using them with 6th, 7th & 8th graders this year, and the opportunity for them to interact with current event informational text at an accessible level is invaluable as we strive to prepare for Common Core."
---Teacher, Redwood Middle School, Napa, CA
* * *
A wonderful resource
I am making a scrapbook of all the articles our students have had published in the EET. I think there are over 25 of their stories over the last 8 years! I will present this to the review team that will come this spring to showcase our students writing.
Thanks you so much for your hard work and dedication to making current and relevant stories accessible to my students. I hope your paper can survive these school cutbacks.
It has been a wonderful resource and I hope it can continue.
Best regards,
Lori Colman
Santa Cruz Adult School
* * *
Our readers write from Los Angeles, CA
My name is Lizbeth Gutierrez Montes de Oca. I used this essay for a Persuasive Speech in my English II Class at Evans Adult School, Mr. William's class.

Take Advantage of "Easy English Times" to Become a Better Writer
"Writing became such a process of discovery that I couldn't wait to get to work in the morning: I wanted to know what I was going to say." -- Sharon O'Brian

In order to improve the writing skill, you, ESL students must drop away the idea of writing is the hardest ability and write as often as you can, any kind of articles about subjects that make you feel cheerful and comfy.

Some people happen to think that writing is the most difficult thing to succeed in for the only fact that we are non-native speakers; that is based on mistaken ideas. Arising out of this, did you know that most natives of the English language have to make their efforts themselves to write accurately even on what they are well aware of? However, it is not effortless at all for us, foreign language learners, to do something which an average of innate English speakers attain by continuous practice. Remember that practice makes perfection.

Putting the pen to paper every time you have an idea to share, an advice to give, a story to tell, will help to discover the writer you have inside. In fact, how many here know about "Easy English Times"? It is a newspaper used in high school, colleges, and libraries to support the reading and writing education. Paragraphs and essays are submitted by students, teachers and readers, then some are selected to be published. I have sent some paragraphs, and I feel proud because my stories have been read by many people in all the country. Often, writing can be stressful because you do not like or do not know the subject you have to talk about. For this publication, you can create compositions about your life, your hometown, your job, a dream, an experience, an important person in your life, a vacation, a review of a movie or book, your favorite sport, etc.

Thus, this newspaper is a door waiting to be open; here is a chance nobody should miss. Leave the laziness aside and write. Write whenever you have a chance and practice your freedom of expression.
* * *
Easy English Times changes lives of its readers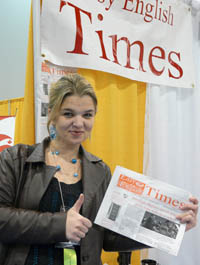 Dear Easy English Times:
Last year over 20 students from the classes I teach were chosen to be published in your "Our Readers Write" section. This experience has changed the lives of many of them. I would like to share some examples of how this change happened.
One of the students Adrian G. C. came to the US with his family to find a better life without any official documents from Mexico. Adrian was the first one from our school who was published in Easy English Times. The very fact of a publication in a national paper gave him recognition on the part of his teachers and peers. He graduated from high school in 2008 and applied for a number of scholarships. He submitted copies of several articles that he wrote for EET in support for his application. First, Adrian received a full ride scholarship to one of the private colleges, Bellevue University; a few weeks later he received one of the top full scholarships in the region that allowed him to choose any college he wished in the state of Nebraska. He is successfully finishing his freshman year now.
Another student Sahro H. came to the U.S. from Somalia as a refugee. The article she wrote for EET was a starting point for her to get encouraged by her teachers and pursue one of the top scholarships in the U.S., the Gates Millennium Scholarship. The first article that was published in the online version of EET taught her how to open up in writing. Sahro just received the news that she received the scholarship she worked so hard for. This scholarship will pay for all her college expenses.
Besides these two huge success stories where Easy English Times became a turning point for my students, I have a number of examples of success but not on such a tangible level. Guillermo S. used to never write anything in my writing class or for that matter in any class. He wrote once….for EET…and got published. He has been writing ever since.
Elias B. wrote a story once for EET but unfortunately he missed the deadline and the story was never submitted for publishing. He resubmitted the story to enter a contest to go to Washington D.C. His story won. He went to D.C. this March and it was a trip of a lifetime for him. The point I am trying to make is that the original inspiration to write was to write for EET.
It was an unforgettable year. I am looking forward for the next year's subscription.
Easy English Times, you change lives. You made my students excited about learning. You made me, as a teacher, excited about teaching. You provided the students the opportunity for community involvement. Your readers don't get paid for writing their articles; they get paid in the long run, like for their college education! That's a big ticket to pick up.
With all my heart, thank you for being there for our students.
Sincerely,
Irene Simonenko
ESL teacher from Omaha, Nebraska