Additional resources for Teachers & Tutors:
SEE OUR LINKS PAGE
* * *
A story on Manzanar was featured in a past issue of Easy English Times. There are many additional resources on the topic. Here are a few:
http://www.manzanarcommittee.org/The_Manzanar_Committee/Our_Pilgrimage.html
https://en.wikipedia.org/wiki/Internment_of_Italian_Americans
For further reading:
http://blog.manzanarcommittee.org
http://www.manzanarcommittee.org/The_Manzanar_Committee/Home.html
https://en.wikipedia.org/wiki/Executive_Order_9066
Manzanar, Images of America series, by Jane Wehrey (www.arcadiapublishing.com)
Reflecting on WWII, Manzanar, and the WRA, by Arthur L. Williams, Friesen Press
http://www.friesenpress.com/bookstore/title/119734000003635582/Arthur-L.-Williams-Reflecting-on-WWII,-Manzanar,-and-the-WRA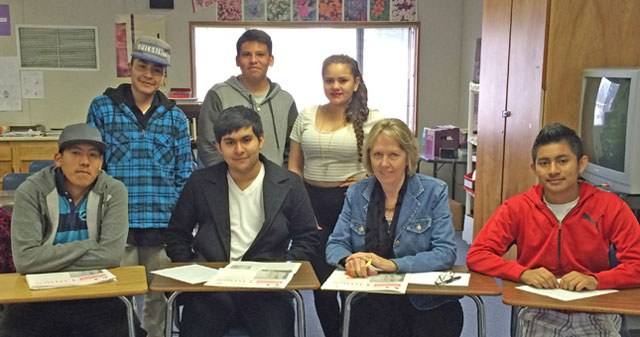 Montgomery High School English Learners class, back row: Marco Menera, Jaime Sanchez, Bella Ramirez.
Front row: Manny Jacobo, Abraham Fuentes (bilingual peer tutor), teacher Ms. Kowal, Ever Perez. (Photo by Kristin Reed.)
(Editor's Note: This is a story for both English students and their teachers. It is written to help their learning from the Easy English Times. We welcome new contributor Chuck Bingaman of Sonoma, Ca. He is a journalist, author, attorney and tutor with the Sonoma County Library Literacy Program.)
Learning quickly with Easy English Times
by Chuck Bingaman
B.J. Kowal's English Learners class in Santa Rosa, California, is finding fun new ways to use the Easy English Times newspaper.
Kowal's class at Montgomery High School has students from all four high school grades. Most of them were born in Mexico or El Salvador. Her students know very little English when they join her class.
"We use many of the Learning Activities in the reader's guide that comes with the newspaper," says Ms. Kowal. "We also find new ways to learn from the paper."
Tapping into what they know
"As one way to learn," Ms. Kowal says, "our class first talks about what they see in the pictures. Students see many different things in the pictures.
When students see something in a photo that they can describe in Spanish but not English, they sometimes translate their Spanish words into English. They use a free computer program on their smartphones called Google Translate. When their words are in English, they read the words to each other and sometimes write the English words in their notebooks.
Ms. Kowal says "our students learn best when we tap into what they already know...in Spanish. So we begin with what catches their eyes in photos. When they read about it and write about it, they make the most learning progress."
After talking about the photos, the students take turns choosing Easy English Times stories that interest them. They take turns reading sentences in their chosen stories. Then they pass the newspaper around so each student gets a turn reading to the class.
Preview discussions
Another learning tool Ms. Kowal uses with Easy English Times is the "preview discussion." In it, she and her class talk about the "quick look at the contents" fill-in sentences that come with each issue's Learning Activities. Then she asks her students to write their own answers to the "fill-ins." "I find that previewing the "fill-ins" with the students keeps them from getting confused and lost," says Ms. Kowal.
Using Student Writing Themes
A third teaching tool Ms. Kowal uses with Easy English Times grows out of the paper's monthly notice of the theme for the next month's student writing pieces. She asks her English Learner students to write paragraphs about the theme. Then she gives her students written suggestions for making their paragraphs better and asks them to copy them over with changes and to read them to the class. When the next issue of Easy English Times comes out, Kowal's students can compare their work with the student work in the newspaper.
Junior student Stephany Reyes entered Kowal's English Learners class in fall, 2013. She knew very little English. But, through study and practice, Stephany quickly learned English skills. Last May, Stephany's piece that she wrote on her mother was printed as a student story in the Easy English Times issue about mothers. Ms. Kowal said "Stephany was very proud of her accomplishment, and I was very proud of her."
Ms. Kowal loves teaching her English Learners class. "Every day there is an exchange of learning and teaching. I learn about Spanish culture and Spanish phrases. The students learn about English words and phrases. It is fantastic to see the amount of English language growth the students have in a short period."
Vocabulary Help
(Definitions by Chuck Bingaman)
Ms. - title for adult woman
tap into - using what someone already knows
smartphone - a cell phone that can use the Internet
preview - a quick look at a story, movie or other item before seeing the whole thing
"fill-ins" - spaces in a story or workbook problem where students write in correct words
suggestions - ideas for improving work such as writing assignments
compare - putting two things side by side to see how they are the same and how they are different
accomplishment - achieving a very big goal or finishing a hard job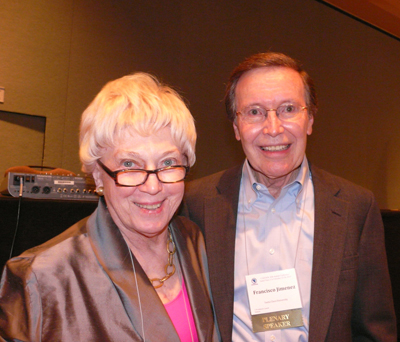 Author honors teachers
The son of Mexican migrant workers, Dr. Francisco Jiménez's topic was "Making Connections Across Borders" when he spoke at the CATESOL conference in Santa Clara, California in October, 2014. He is the author of "The Circuit: Stories from the Life of a Migrant Child," and two sequels "Breaking Through" and "Reaching Out." Here he is pictured with Ellen Lange, CATESOL president 2013-2014 and Easy English Times editorial board member. The award-winning author showed photos and told stories from his books. And he honored some of the teachers who influenced his life. "It's wonderful work you are doing," he told the teachers who gathered to hear his remarks.
Attention Teachers & Tutors
Easy English Times is used in classrooms, workplace and library literacy projects, among other sites.
Each month the paper comes with an extra page of Learning Activities and instant activities are included in each issue. You can walk into your classroom and start teaching from the newspaper. Literacy tutors find the paper useful in individual or group settings. It can also be used for home study. We feature a Teachers' Corner with information for or by teachers. (See below for a Teachers' Corner from our June 2014 issue.)
From Editor Lorraine Ruston
I'm an ESL teacher (adults) and also the editor of Easy English Times. I use the newspaper in every class I teach. I usually choose one or two articles to start my class with. I read the story aloud and ask the students to underline a key word or phrase in each sentence. ( I choose the words as we go along.) I make sure they understand what the words mean. (My students all speak Spanish so they translate for each other or I help them a bit.) Then I read the story again, asking them to read the words they have underlined. I listen to their pronunciation. Sometimes I make up a simple comprehension quiz about what we just read.
We do the crossword puzzle in class together and talk about the words that go into the puzzle.
I assign the scanning questions on the Learning Activities page for homework. Sometimes we do the 'more careful reading' questions in class as a jigsaw reading activity. Sometimes I assign them for homework.
I always ask my students to write something themselves based on some of the other student writing pieces.
I hope this helps you and that you enjoy our newspaper!
Teachers say:
"Once the papers come, we have to stop everything to read them. My students love these newspapers."
- Inger Shiffler
"It's great. I save every issue to use again and again."
- June Chan
"My students love your fine newspaper! It is the high point of our ESL program. Thank you." - Margaret Pillsbury
Students say:
"I want to read and write. The newspaper helps me understand English."
- Hoa Mai Nguyen
"This paper helps me. It is my idea to get citizenship."
- Phien Pheauboonma
***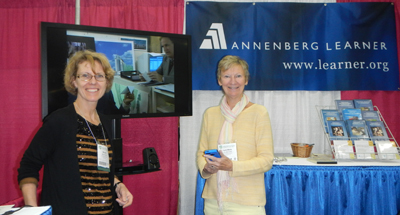 Michele McLeod & Lynn-Marie Smith, Annenberg Learner
Teachers' Corner, June 2014
Connect with English Website
A new website for English language learners makes it easy to learn and practice English on mobile devices including smartphones and tablets. The website Connect with English www.learner.org/series/cwe is based on a popular video series of the same name.
In 1998 the Annenberg/CPB Project (now Annenberg Learner), a funder and distributor of college-level video course material, released Connect with English, a language learning course. The course was developed for teachers of English as a second language (ESL) to help learners become engaged in American English language and culture through a multi-part video story. The concept of following a storyline to learn a language had been successfully used with two previous Annenberg-funded projects: French in Action and Destinos: An Introduction to Spanish.
Connect with English follows the story of a young woman named Rebecca Casey. Rebecca moves from Boston to San Francisco to pursue her dream of going to college and eventually becoming a professional musician. Putting Rebecca into interesting situations provides ESL students with shared topics of conversation: How would Rebecca tell her father she would be moving away? Who was the handsome stranger she met when her car broke down? How would she support herself while going to college?
The video series and accompanying books have been very popular for many years. Annenberg Learner streamed the video programs on its website www.learner.org and professors used the videos in college and non-credit classes. In 2012 Annenberg Learner worked with WGBH Boston, the public television station that filmed the original series, to create a learning website based on Connect with English. The learner.org website streams learning videos in all academic areas. The videos all are closed captioned, so English learners can acquire technical language as well as grammar by watching them. Note that only Connect with English was developed specifically for English language learners.
Because many people learn English today using smartphones rather than desktop computers, Annenberg Learner staff decided to make the site easy to use on smartphones and tablets. This posed a greater challenge to the website developers than creating a site for a desktop computer. After much hard work by the programmers, the site launched in late 2013. A Boston-area college and adult ESL instructor served as academic advisor for the Connect with English website. Connect with English online premiered at the 2014 TESOL meeting in Portland to great interest from teachers.
The Connect with English site has four segments, which follow the progress of the video story. Each segment has exercises in grammar, dictation, expressions, a quiz about the story, and readings from Rebecca's diary, with follow-up discussion questions. All 52 videos are connected to the website.
Learners can access and use the free site any time and share it with their friends who also want to practice their English and follow the story of Rebecca Casey.
For more information contact Michele McLeod at mmcleod@learner.org