Easy English Times recommends:
Spring Book Center
Contact Luis Coloma for more information at info@springesl.com or see www.springesl.com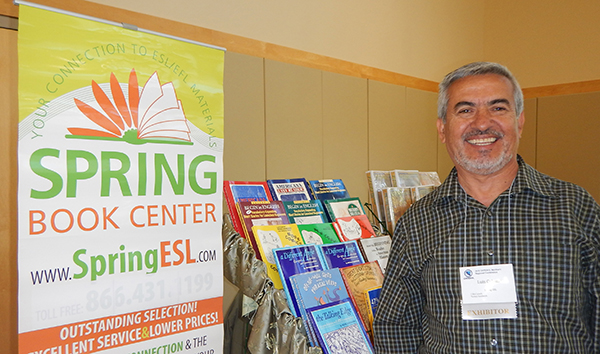 (Above, Luis Coloma at the CATESOL conference in Petaluma May 12, 2018.)
ESL Publishing
"She Built Ships During World War II" is among titles offered by ESL Publishing. Jeane Slone is pictured here at a CCAE Conference in Berkeley. See www.eslpublishing.com for more information.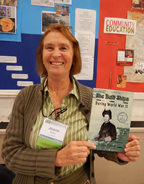 Outreach and Technical Assistance Network
Outreach and Technical Assistance Network (OTAN) is a California state leadership project for adult education providers. Funded through the U.S. Department of Education and administered through the California Department of Education, OTAN provides electronic collaboration and information, as well as support for instructional technology and distance learning. See http://www.otan.us/
U.S.A. Learns (USAL) was created with funding provided by the U.S. Department of Education and Homeland Security. Subsequently, ownership of the site was transferred to the Sacramento County Office of Education where it is supported, maintained, and provided as a free instructional resource for adult learners. See http://www.usalearns.org
Previous EET recommendations...from CATESOL Conference October 2014, Santa Clara, California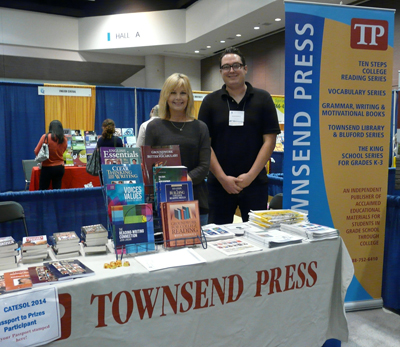 Bonnie Lane Helberg and son David staffed the Townsend Press booth at CATESOL October 2014 in Santa Clara. See www.townsendpress.com
From TESOL March, 2014, Portland, Oregon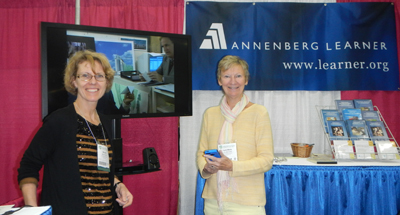 Michele McLeod & Lynn-Marie Smith, Annenberg Learner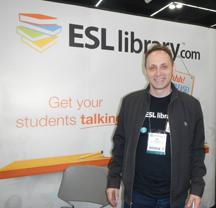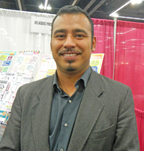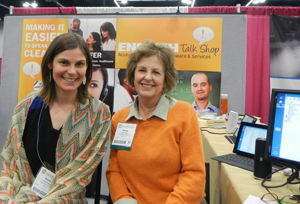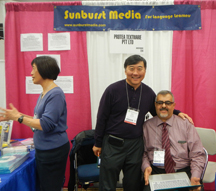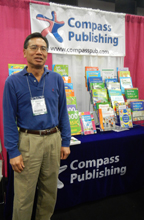 Easy English Times recommends

Eric H. Roth, above, and Toni Aberson with Hal Bogotch are authors
of the new book "Compelling American Conversations"
"Compelling Conversations!" new book available
Compelling Conversations are featured in each issue of Easy English Times. A new book has been published! "Compelling American Conversations." See www.compellingconversations.com
EET recommends Nancy Hiser and English Talk Shop!
English Talk Shop provides accent improvement software, including American Speechsounds and Is ERnie an attORney? Specialized healthcare, academic, and Canadian English software. Learn more at: www.EnglishTalkShop.com
2488 SW Sherwood Drive, Suite 201
Portland, OR 97201
503-713-3468

Photo, below: Nancy Hiser often shares a table with Easy English Times at CATESOL or TESOL conferences. See her website for more information on her pronunciation software.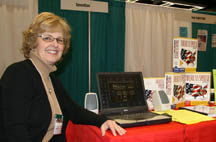 * * *
Do you know about author Elizabeth Weal? Her book "English Grammar: Step by Step" series is unique because it is specifically designed for Spanish-speaking students who have little or no knowledge of Spanish or English grammar. For more information on her work, contact her at elizabethweal@tenaya.com.
Citizenship resources
Need information and resources on U.S. citizenship? You're not alone! Many visitors to the USCIS website do. That's why USCIS created the Citizenship Resource Center, an easy-to-use Web portal that has information for learners, teachers and organizations. Visit it at http://www.uscis.gov/citizenship

Above left, Euphronia Awakuni, Planaria Price, and Susan Ritter of Evans Community Adult School in Los Angeles are pictured at the November 2009 CATESOL Conference in Los Angeles.
In the family
Planaria Price and her daughter Euphronia Awakuni are both ESL teachers. They have a new book out called, "Life in the USA: An Immigrants Guide to Understanding Americans." It has been published by University of Michigan Press.
Awakuni and Price did a poster session on "Teacher, Why Do Americans Do That!" at the fall 2009 CATESOL conference in Los Angeles. They also did a workshop called, "Cut and Paste English, the American Language Scrapbook." To reach Price, e-mail planariap@earthlink. Tell her you saw this on the Easy English Times website!

Above, VOA staff member Avi Arditti presented information at the TESOL 2009 conference in Denver.
EET recommends Voice of America's Special English. The goal of the site is to "communicate with people who are not fluent in English." Over the years, its role has expanded. It helps people learn American English while they learn about American life and stay informed about world news. It provides listeners with information they cannot find elsewhere. Visit http://www.voanews.com/specialenglish/index.cfm

Above, Lance Belville is pictured with Easy English Times editor Lorraine Ruston and publisher Betty Malmgren at a CATESOL conference.
See his site at www.ActingYourWayToEnglish.com for more information on how to energize your classes.
Elwell Publications
Contact Sharon Elwell author of "Free and Cheap Materials for Teaching ESL," "Jeremy and the Wappo," and "Reach Out and Teach Someone," at selwell549@aol.com. Sharon has written a new book called "Caught in the Middle: Reflections of a Middle School Teacher" about her experiences teaching in Huron, a tiny California central valley town. The vignettes provide a powerful, touching and unique insight into children who are caught in the middle between childhood and young adulthood and between two cultures. Sharon is also the author of the popular "Pon & Petronillo" which appears in Easy English Times.
"Cambridge dictionaries give learners access to the words and meanings they need." See http://www.cambridge.org/us/esl/
Alta Book Center Publishers www.altaesl.com "The largest source of ESL/EFL books and materials in the world."
ESL-Library.com - The resource site for language teachers
Find and print hundreds of ready made ESL lesson plans, and thousands of ready-to-print ESL flashcards for the classroom. At ESL-Library.com, preparing for class is easy... Just hit print. http://www.esl-library.com
Spring Book Center - see www.springesl.com