Lorraine Ruston and her class
Learn to read while reading
useful information
We celebrated our 20th anniversary in 2016!
Easy English Times was created in 1996 to meet the need for relevant and current material presented in a "user friendly" format for ESL classes and adult literacy programs. It is used in colleges, adult schools, library, family and workplace literacy projects, and by citizenship advocacy organizations. Individuals also subscribe.
Today Easy English Times is used by adults and junior high/high school students learning how to read English from California to New York, from Nebraska to Texas. An online version is also available for international readers. Many of our readers are immigrants new to this country. We are committed to publishing student writing, to sharing "ownership" of the paper with our readers.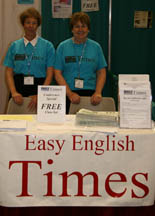 Left, above, editor Lorraine Ruston and publisher Betty Malmgren at a CATESOL conference.
Publisher Betty Malmgren has a background in print journalism and has a master's degree in journalism.
Editor Lorraine Ruston has years of experience as an ESL teacher and teacher trainer. She has a master's degree in linguistics with an emphasis on TESL.
Circulation manager is Kathy Bandrowski.

Left, Lorraine Ruston, subscriber Lance Belville, and Betty Malmgren, right.
Easy English Times Editorial Board
Ellen Lange, Lecturer Emerita, UC Davis, Davis, CA
Susan Gaer, Professor Emeritus Santa Ana College, Grover Beach, CA
Liliya Berenboim, Pittsburgh Adult Education Center, Pittsburgh, CA
Mimi Pollack, retired ESL faculty, San Diego, CA
Joyce Mancini, Evans Community Adult School, Los Angeles, CA
Robin Rafael, Napa County Library, Napa, CA
Yvonne Martin, Vallejo Adult School, Vallejo, CA
Frances Frazier, Petaluma Adult School, Petaluma, CA
Cynthia Eagleton, San Mateo Adult School, San Mateo, CA
Rosalind Shell, Winter Park Campus, Orange Technical College, FL
Bonnie Vaughan, Bakersfield Adult School, Bakersfield, CA
Alisa Adams, Sonoma County Library, Adult Literacy Services Coordinator, Santa Rosa, CA
More volunteers are welcome to join the board. We need your help with content and ideas about how to increase our circulation. We want to make the paper as useful as possible for all readers. For more information, email easyenglish@aol.com