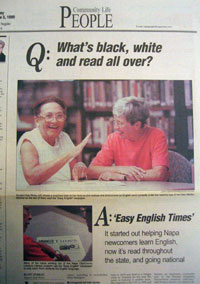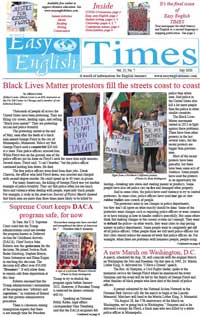 (click to view)
Happy Spring!
In the April issue...
Easter is celebrated. How many rabbits can you find in this issue? The easy, easy activity is on the White House egg roll and there is a bunny song to sing with children. A story on drones is on page 1 as is a student success story from Texas. It is National Poetry Month and students from Illinois submitted poems. Earth Day is April 22. There is a story about "do yoga, plant a tree" on a unique Earth Day effort. Information is included on solar power. A new column on the law has useful information on your right to silence. There is a related citizenship story. There is also a citizenship question related to American history and the midnight ride of Paul Revere which happened in April, 1775. There are more stories on animals and "something is fishy." Our salute to libraries continues. Golf and the Boston marathon are topics in the sports section. A DVD review is on "Cantinflas." There are instant activities for conversation, reading, writing and idioms. All this and more in the April issue.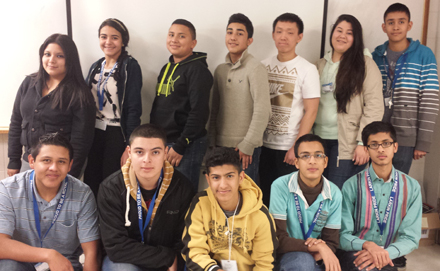 Above, we salute student writers from Larkin High School, Elgin, Illinois.
Are you learning English as a second language (ESL)?
Easy English Times is a newspaper for you! Many readers of this educational newspaper are immigrants learning English. Citizenship information is included. Other readers attend adult literacy programs. It is our hope that you will start by reading this newspaper then "graduate" on to reading community newspapers.
Are you teaching ESL, adult literacy or citizenship?
You can walk into the classroom and start teaching from the paper. Do you want tips on using any newspaper in your class (also useful for tutors)? Click here. Easy English Times has instant activities for reading, writing and conversation. This newspaper is published to present relevant information and current events in an easy to read format for English language learners and adult literacy programs.
Would you like a free sample copy (USA only)?
Email us at easyenglish@aol.com with your mailing address.
Below, a class from Vallejo Adult School with teacher Yvonne Martin submitted student writing.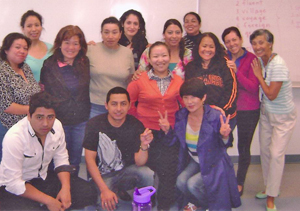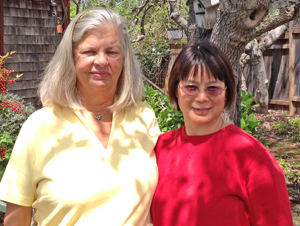 Above, Tutor Laura Owens and her student Shuying of the Sonoma County Library Adult Literacy Project.
Easy English Times at TESOL in Portland 2014
Below Publisher Betty Malmgren and Editor Lorraine Ruston are pictured with authors Elizabeth Weal and Eric Roth. All four made presentations at the conference.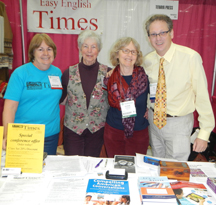 Below, photo left, author and former Times columnist Susan Gaer of California with Lorraine Ruston. Below, photo right, subscriber and teacher Vickie Winston of Texas and Betty Malmgren at the booth.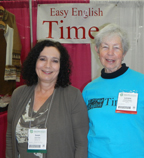 * * *
While most of our readers are in high school, adult schools, community colleges and library literacy projects, we received this note from a middle school teacher:
"These continue to be a fabulous teaching tool and extremely valuable resource for my middle school ELL's. I'm using them with 6th, 7th & 8th graders this year, and the opportunity for them to interact with current event informational text at an accessible level is invaluable as we strive to prepare for Common Core."
---Teacher, Redwood Middle School, Napa, CA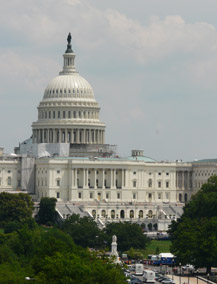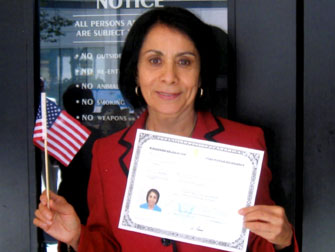 Citizenship - Easy English Times has a focus on citizenship! Citizenship information is included in each issue.
NEW - Answer keys are now posted for Learning Activities and can be printed out!
Every month we receive more student writing than we have room to print so we are featuring a few more stories here under "Bonus Student Writing." Also see "Student Writing of the Month."
Do you know someone learning English as a second language? Gift certificates for this ESL newspaper are now available. Click here for a gift order form.
Are you learning English as a second language (ESL)? Are you teaching English as a second language? Easy English Times provides instant activities for English language learners.
Easy English Times is YOUR newspaper. Easy English Times is designed to encourage newspaper readership. In addition to classroom use, it's perfect for tutoring or self-study.

Students from Sierra College, California
We love to print student writing! You can email student writing to easyenglish@aol.com
Easy English Times can be used in multi-level ESL or adult literacy classes. Do you need easy content for beginning readers? See page 3 of each issue for "Easy, Easy English."
Many "instant activities" are included in each edition. Reading, writing and conversation activities are included. An extra page of learning activities comes with each issue.
A newspaper in easy English!
Easy English Times brings a world of information to high school and adult learners. It's a newspaper written in easy English for those in English as a second language (ESL) classes and adult literacy programs. It is used in library and workplace literacy projects. It is used in jail and prison literacy programs. Published 10 times a year, Easy English Times is used in ESL classes in high schools, adult schools, community colleges and state colleges, and other sites. It is used in family literacy projects. It is used by English as a second language (ESL) teachers and literacy tutors. It is used in citizenship classes and CBET and EL Civics programs. It is also used in EFL classes.
Content is designed for learners of English. New words are defined. You will find idioms. Many of our readers are immigrants so citizenship and other useful information is featured. A story to read with children is included to support family literacy. We print student writing and class photos.
A Teacher's Corner is included. We are happy to give ESL teachers ideas on how to use the newspaper in the classroom. Easy English Times is designed to help new readers. We provide opportunities to interact with other ESL and literacy students, teachers and tutors.
Classroom and individual subscriptions are available. Discounts are given for class sets. We accept school purchase orders and credit card payments. You can order this English as a second language (ESL) and adult literacy newspaper by mail, by the month or by the year (10 issues). Contact us for international mail rates. We have added an online edition, especially for the convenience of international readers.
* * *
Do you want to improve your English?
Subscribe today to Easy English Times.
Desea usted mejorar su inglés?
Subscriba hoy a Easy English Times.
You can receive this newspaper at your home. The cost for an individual subscription is $25/year. You will receive a newspaper almost every month. (There is one newspaper for August and September. There is one newspaper for November and December.)
Usted puede recibir este periódico en su casa. El costo por una subscripción individual es $25/año. Recibirá un periódico casi todos los meses. (Hay un periódico por agosto y septiembre. Hay un periódico por noviembre y diciembre.)