It's time to order for January classes. Short term orders are available.
In our January issue...
Civil rights is a topic. Martin Luther King Jr. Day is observed on Jan. 15. A march was held last year in Salem, Oregon to mark the day. Fred Korematsu Day is Jan. 30. And an international day of commemoration of the victims of the Holocaust is Jan. 27. Citizenship is celebrated. Time Magazine recognizes the #Me Too movement, the Silence Breakers, as its Person of the Year. According to Merriam-Webster the word of the year is feminism. Plans are being made for marches and voter registration drives around the country on the weekend of Jan. 20-21. The organizers of the Washington, D.C. Women's March last year are planning an event in Las Vegas called "Power to the Polls" on Jan. 21. There is information on the top stories and events of 2017, the year in review.
Our readers write on training for the Boston Marathon and going to an opera. Students from Bakersfield, California were inspired to write and read more after reading "Esperanza Rising" by Pam Munoz Ryan. They wrote stories about the book, the plight of migrants during the Dust Bowl and Depression, and the efforts of educator Leo Hart to help migrant children.
Sports looks at the Super Bowl, Japan's Shohei Ohtani, and the coming Winter Olympics.
Habits, routines and New Year's resolutions are topics. A movie review is on "Coco." Food will be a topic this year and food idioms and proverbs are included. There is a story to read with children to encourage family literacy.
There are many instant activities in this issue and citizenship questions related to the content. All this and more in our January issue...
January Student Writing of the Month is from the Sonoma County (California) Library Literacy Project. Bonus Student Writing is from Bakersfield, California, Adult School.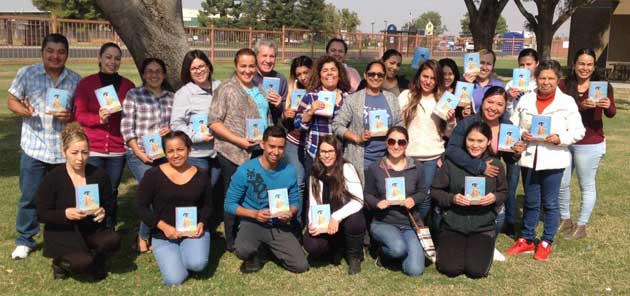 Bonnie Vaughan's class at Bakersfield Adult School. See more stories in "Bonus Student Writing" here.
NEW - A pre-crossword puzzle worksheet is available to give your students additional practice!
NEW - Answer keys are now posted for Learning Activities and can be printed out!
Help celebrate our 20th anniversary!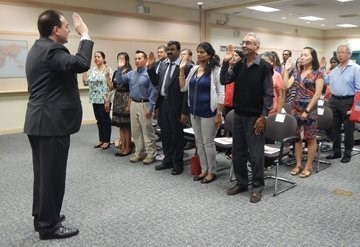 Above, Mark Farfaglia of the USCIS San Francisco Field Office, administers the oath to 24 new citizens from 11 countries at a citizenship ceremony. It was held in Fremont, California at the library there on Aug. 2, 2016.